We don't stock a lot of these cases, so contact me if you'd like to purchase one and you don't see it in the shop.
IPHONE SLEEVE - $40
Simple protection for your iPhone 4, 5, 6 or 7 (and the pluses). The sleeve fits snugly on a bare iPhone. Edged and burnished with my star logo in the bottom right corner.
I make this in a variety of leathers and colors.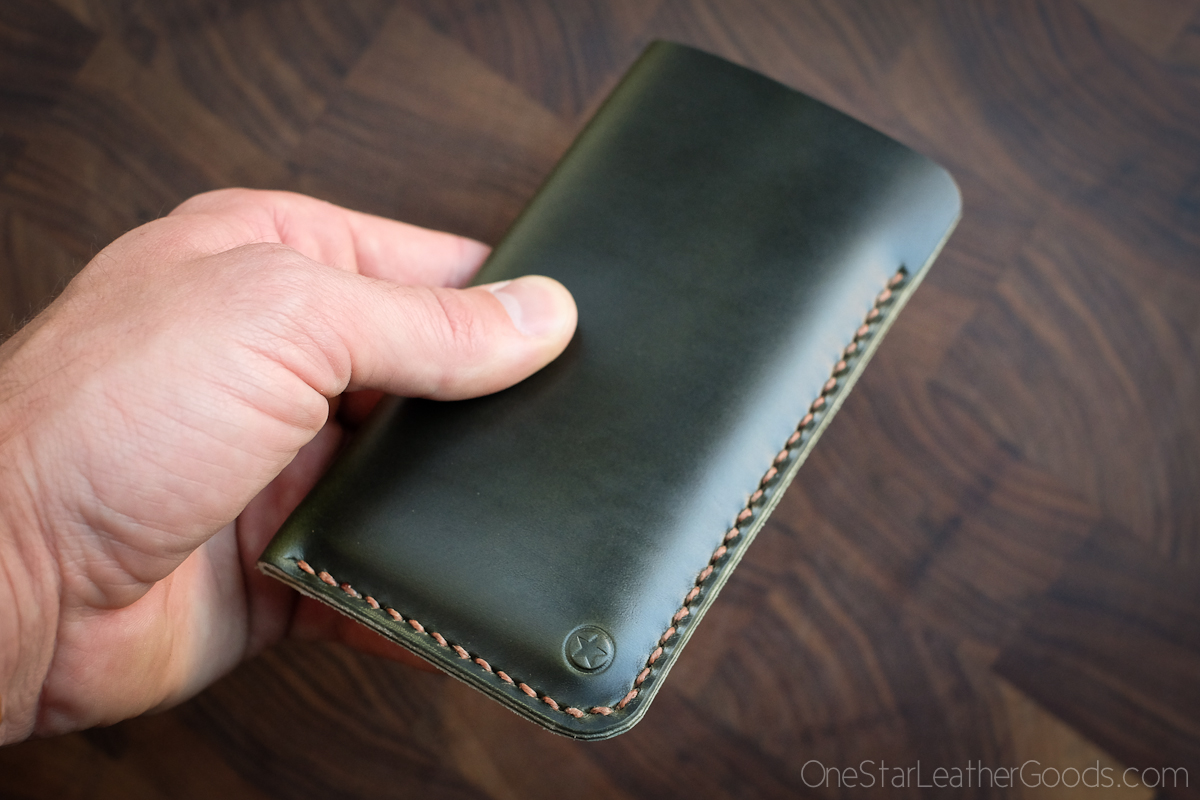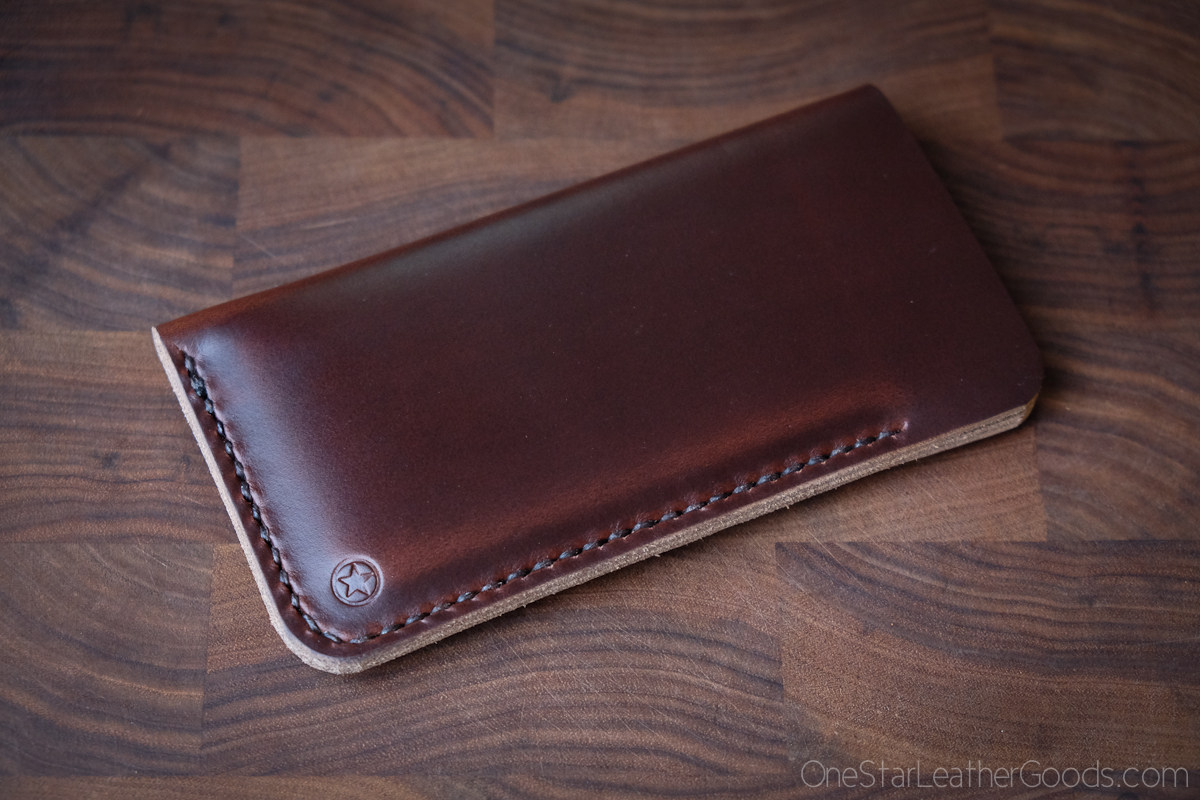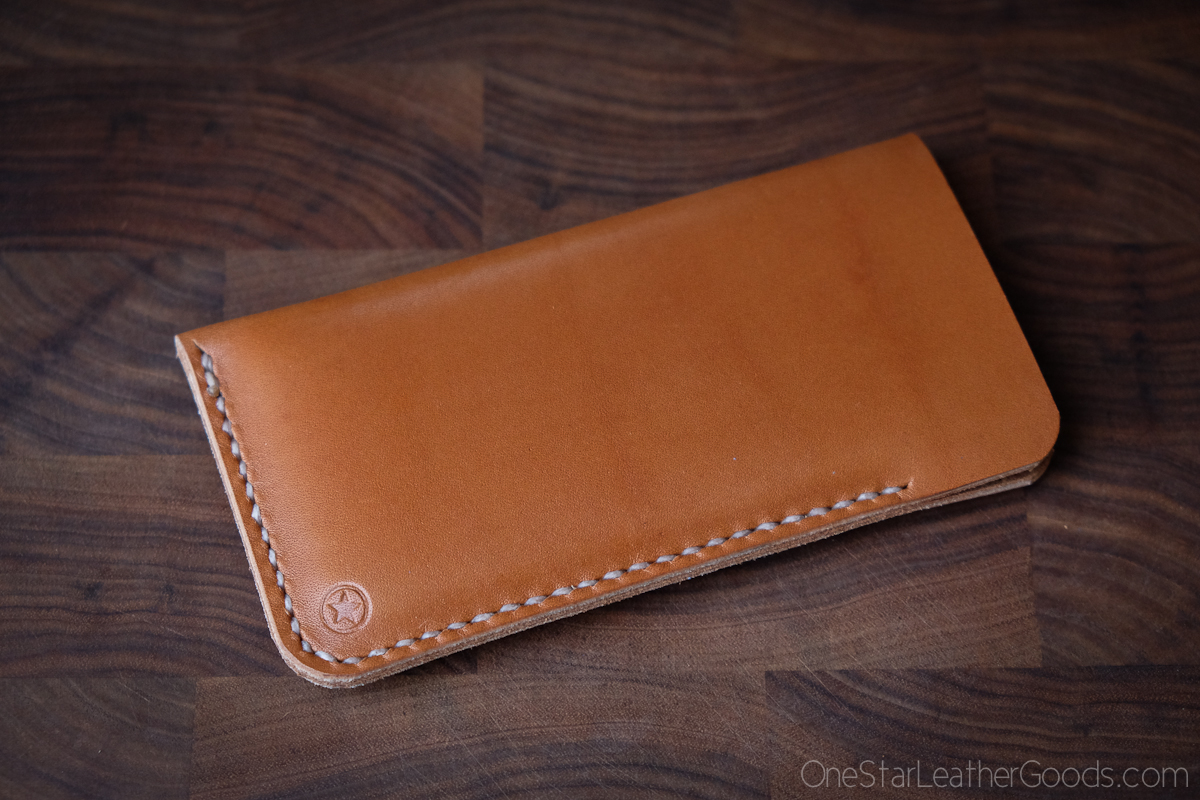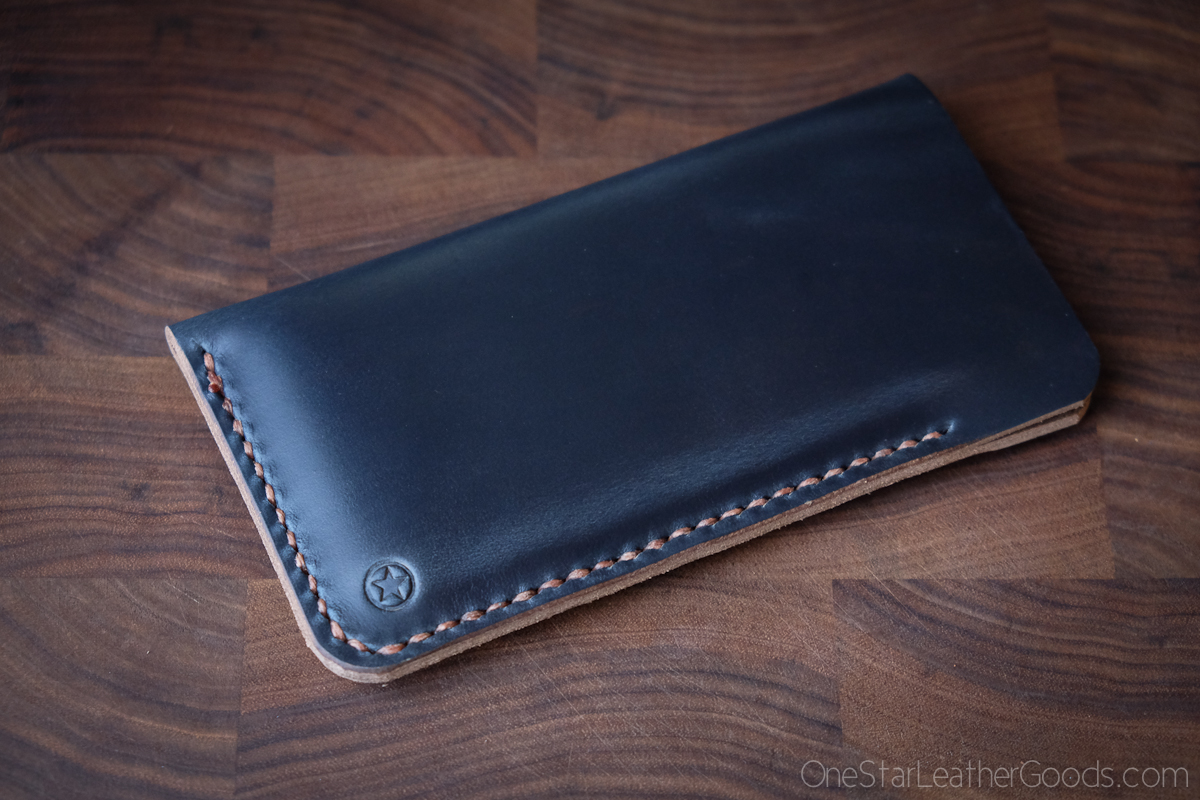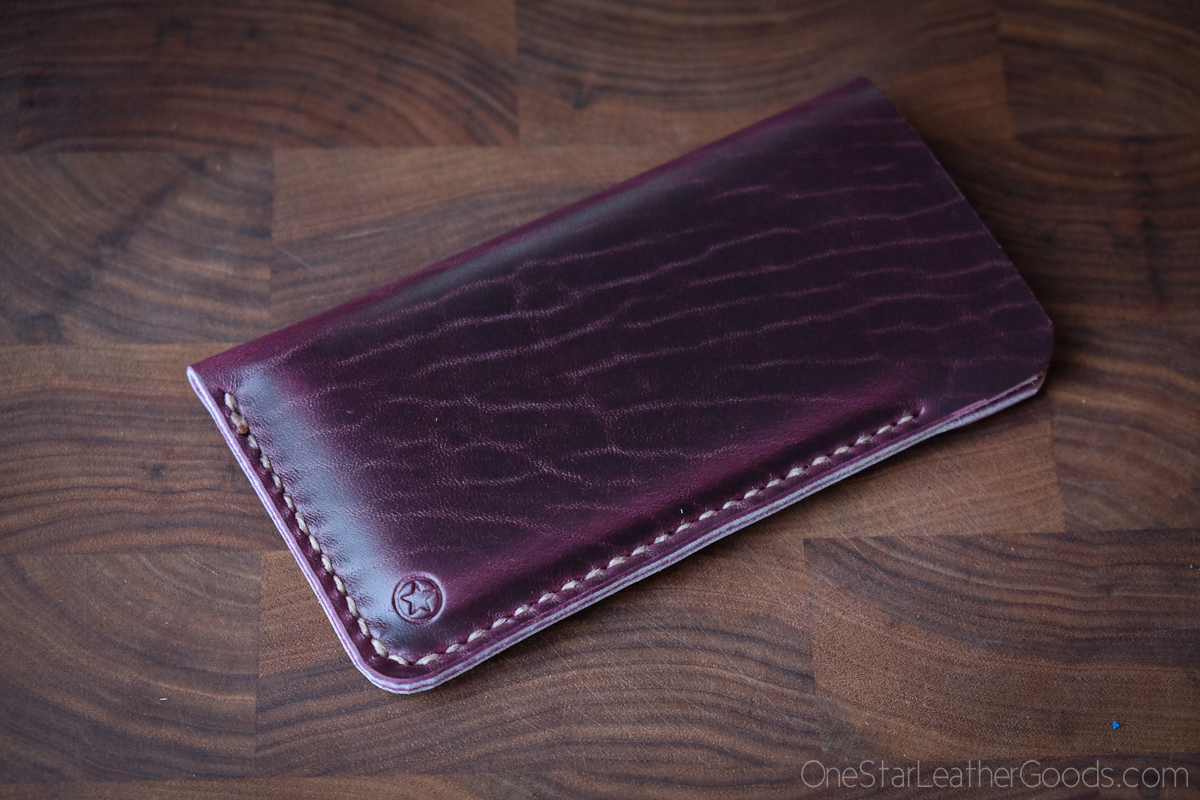 IPHONE SLEEVE WITH POCKET - $50
Simple protection for your iPhone, plus an outside pocket. Stitched on both sides and sized to fit snugly on a bare iPhone. Edged and burnished with my star logo.
I make this in a variety of leathers and colors.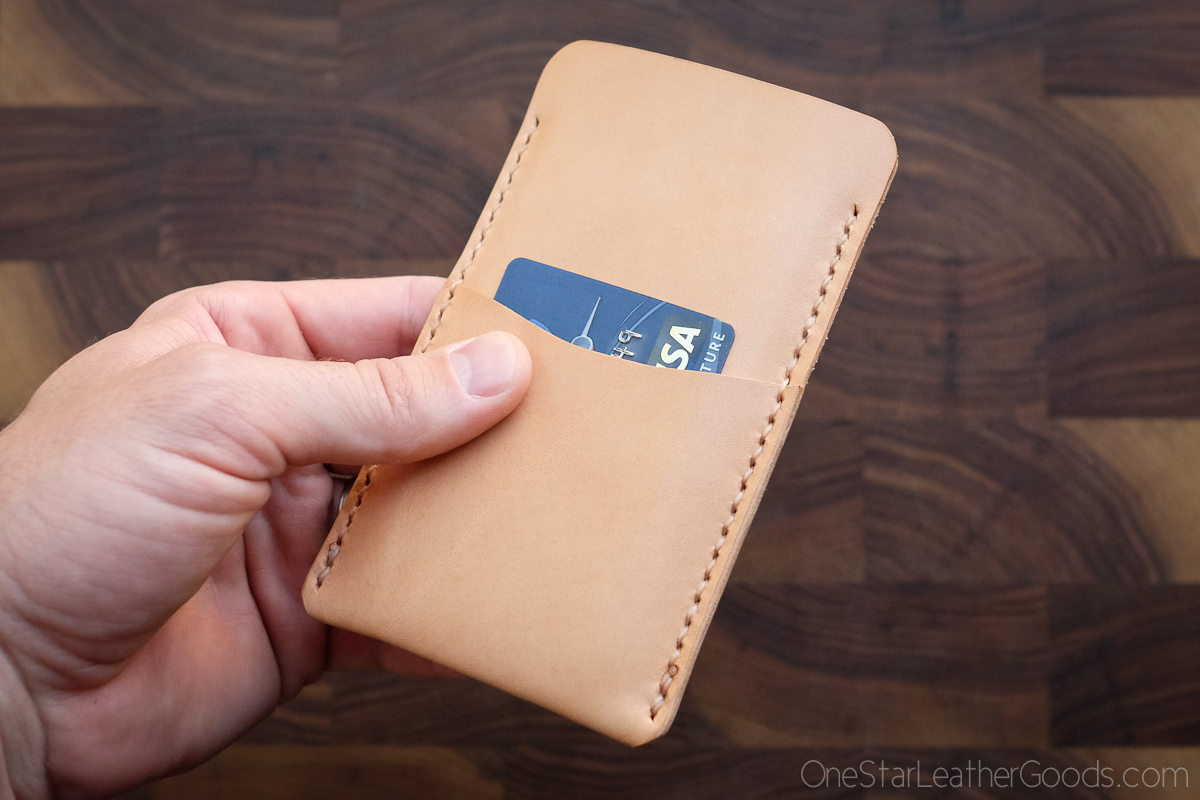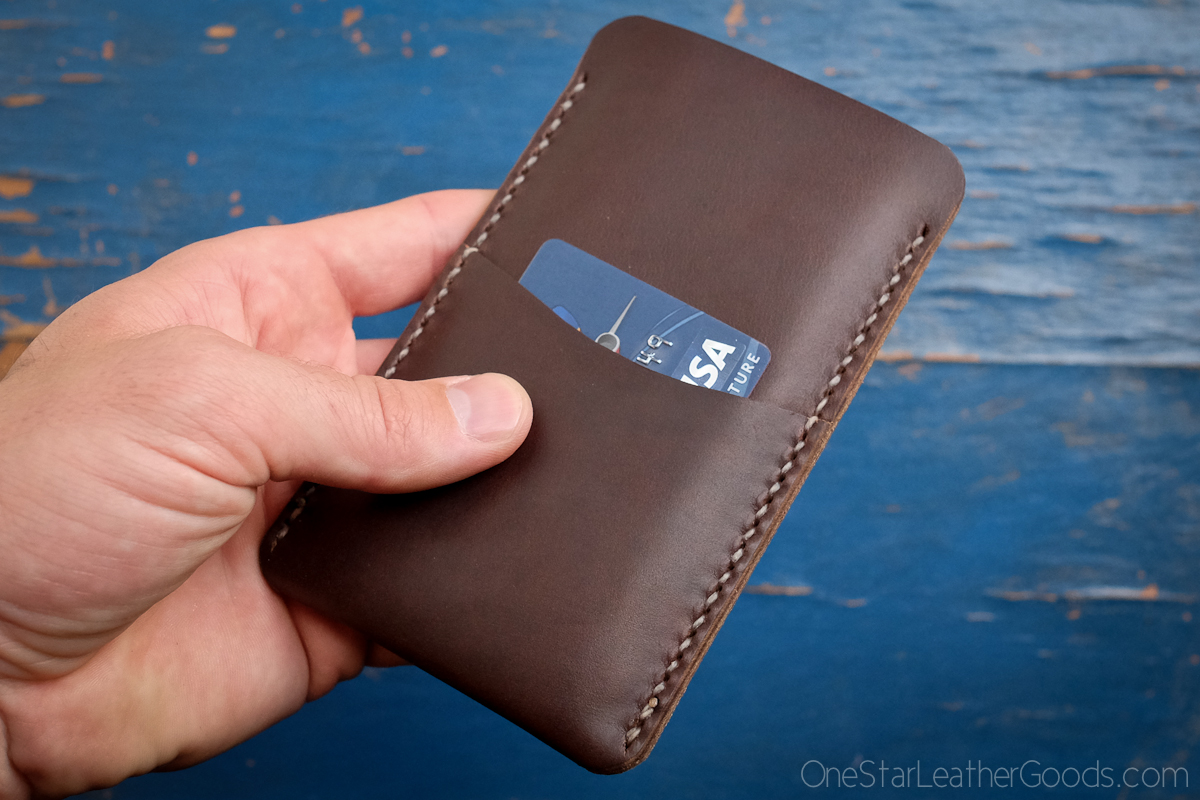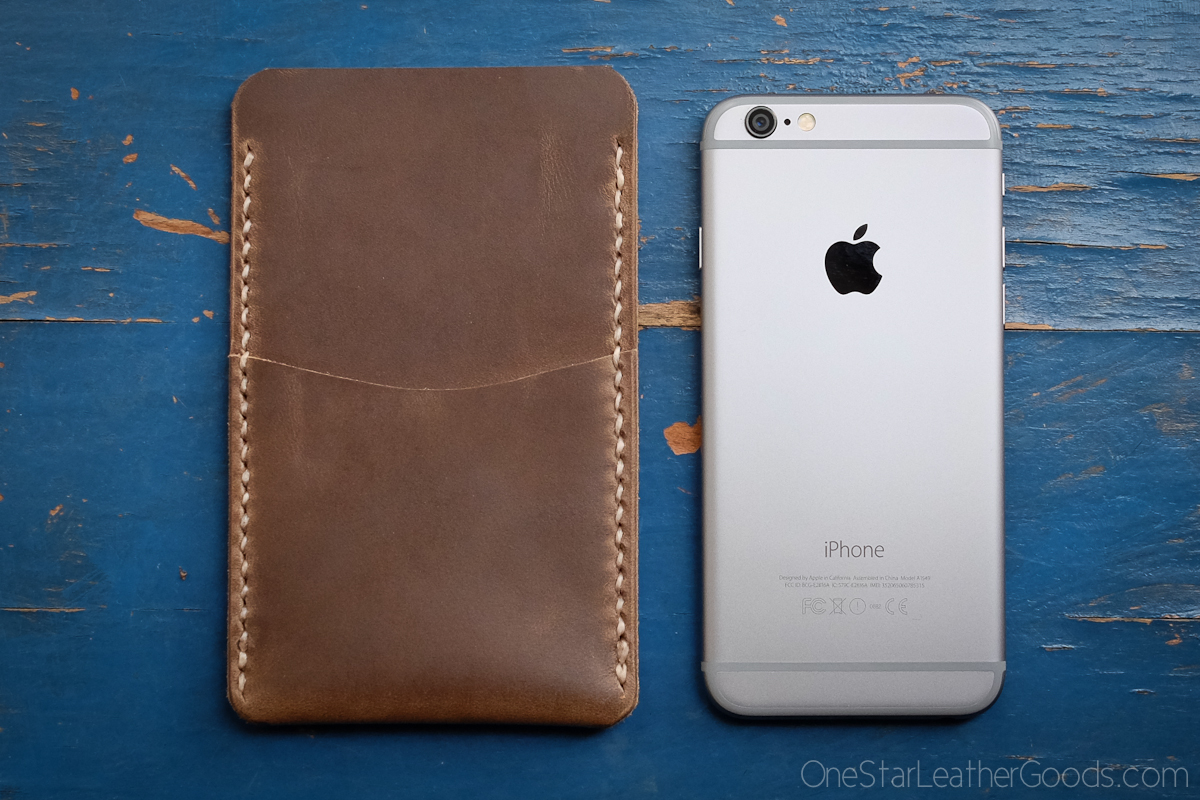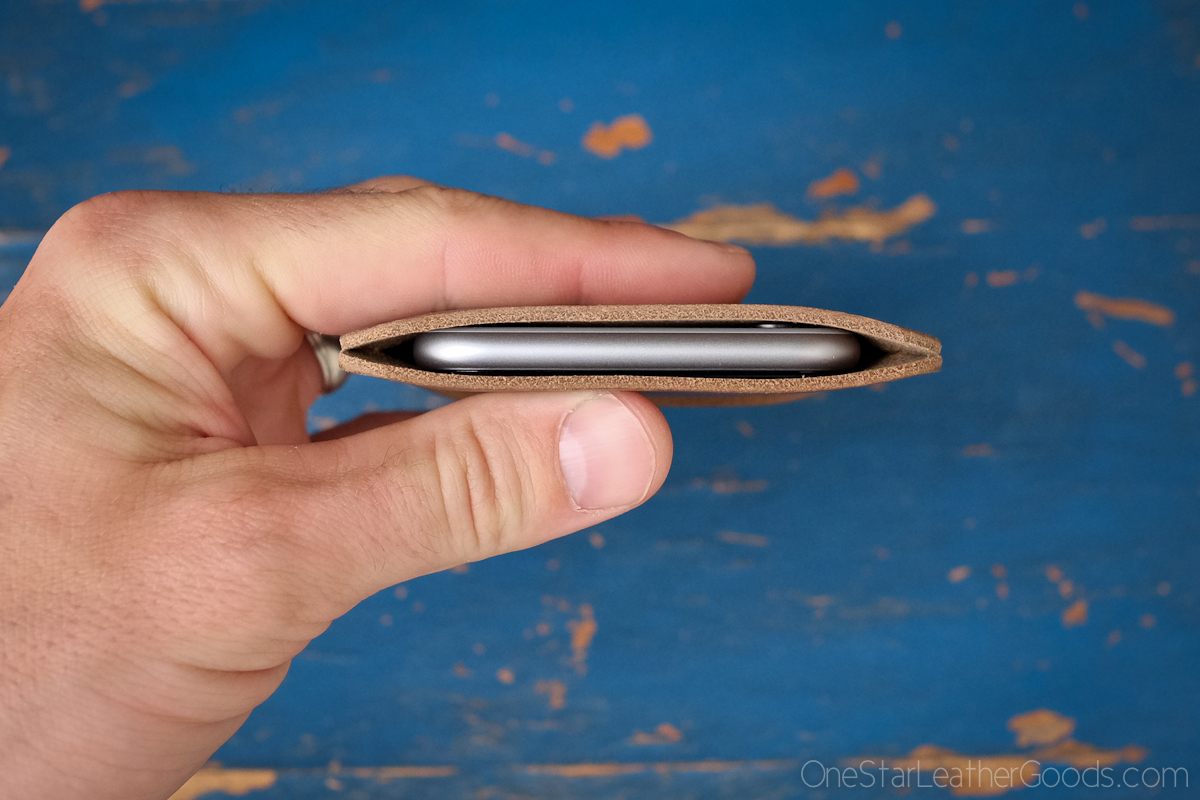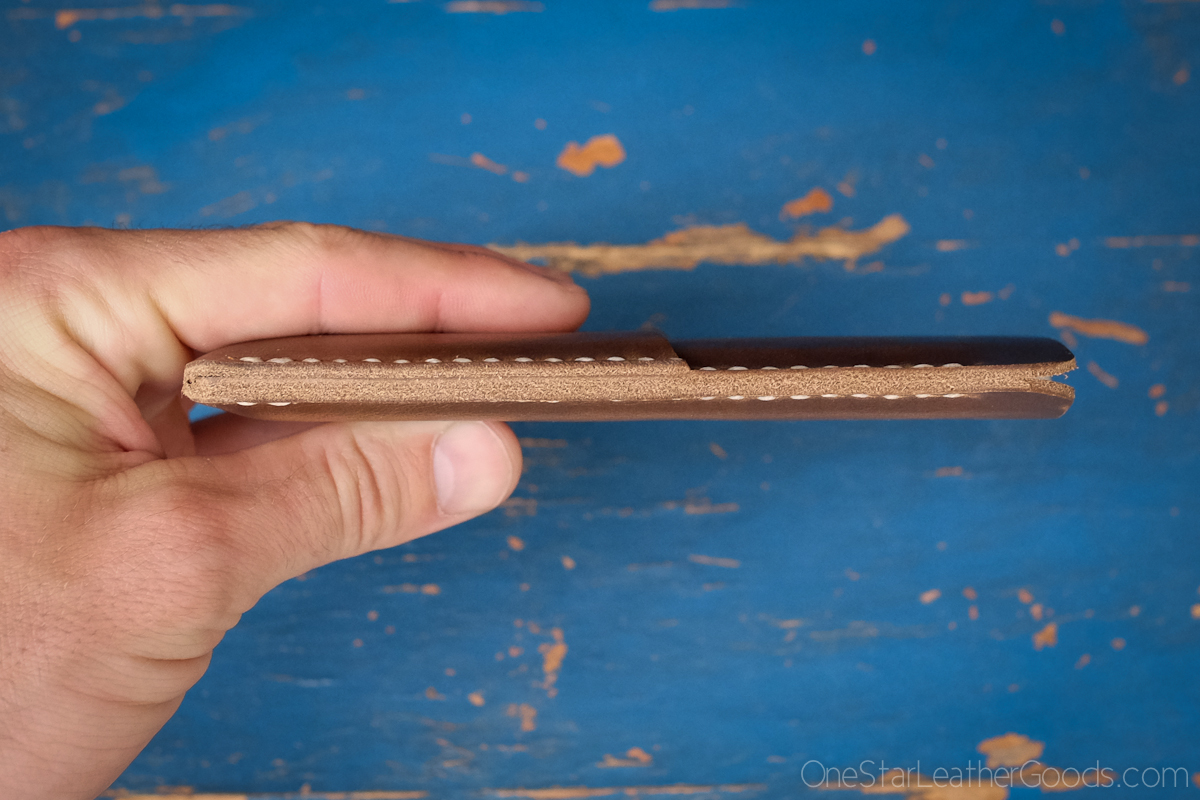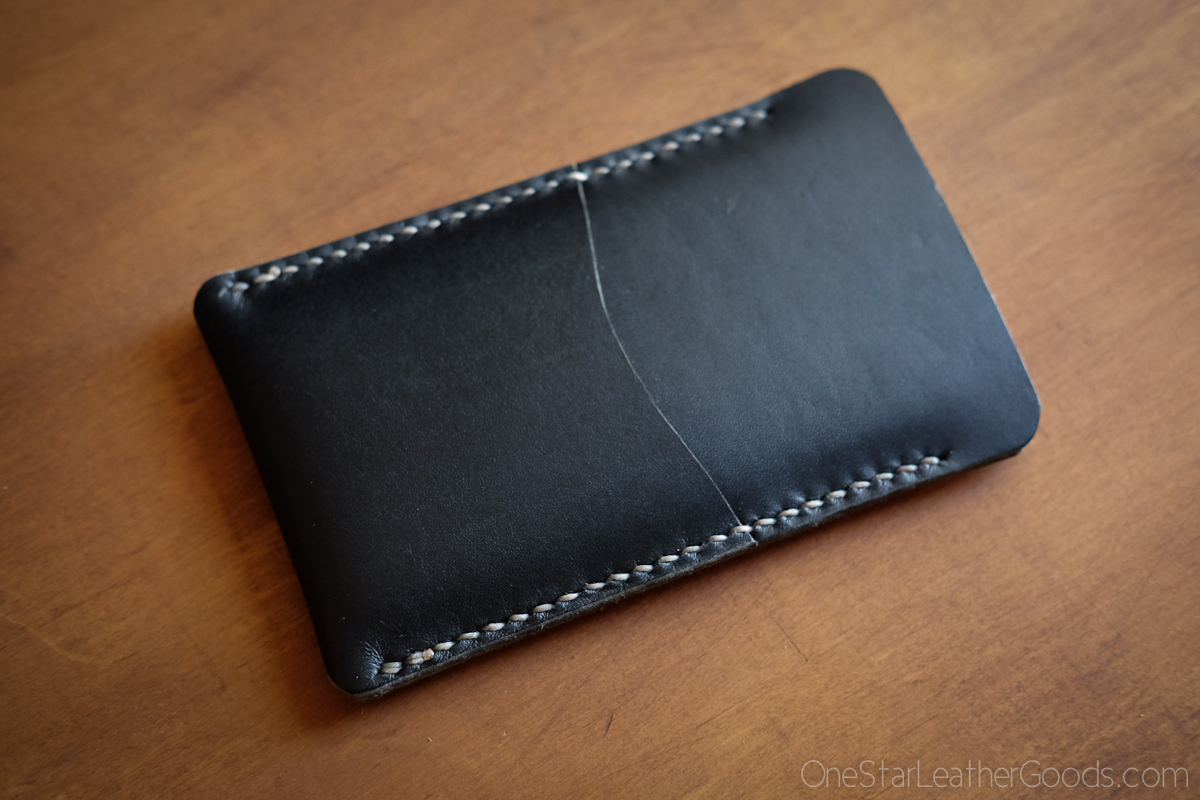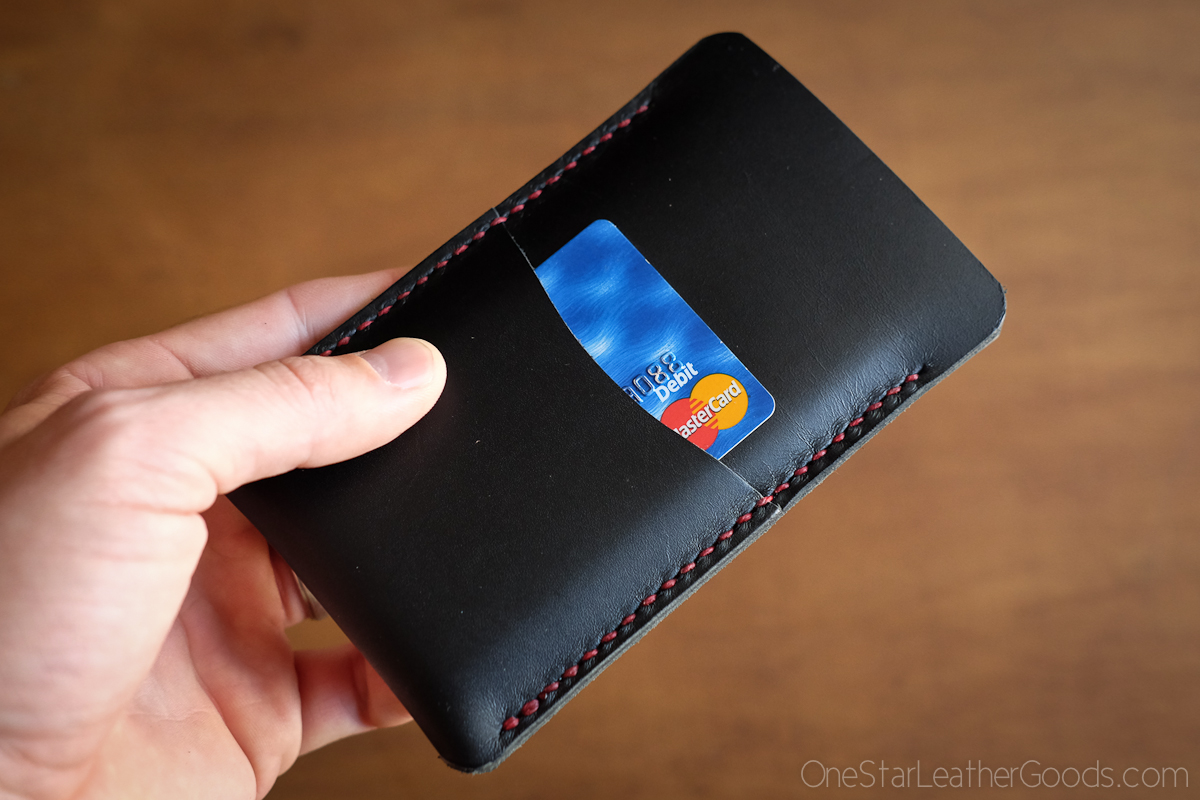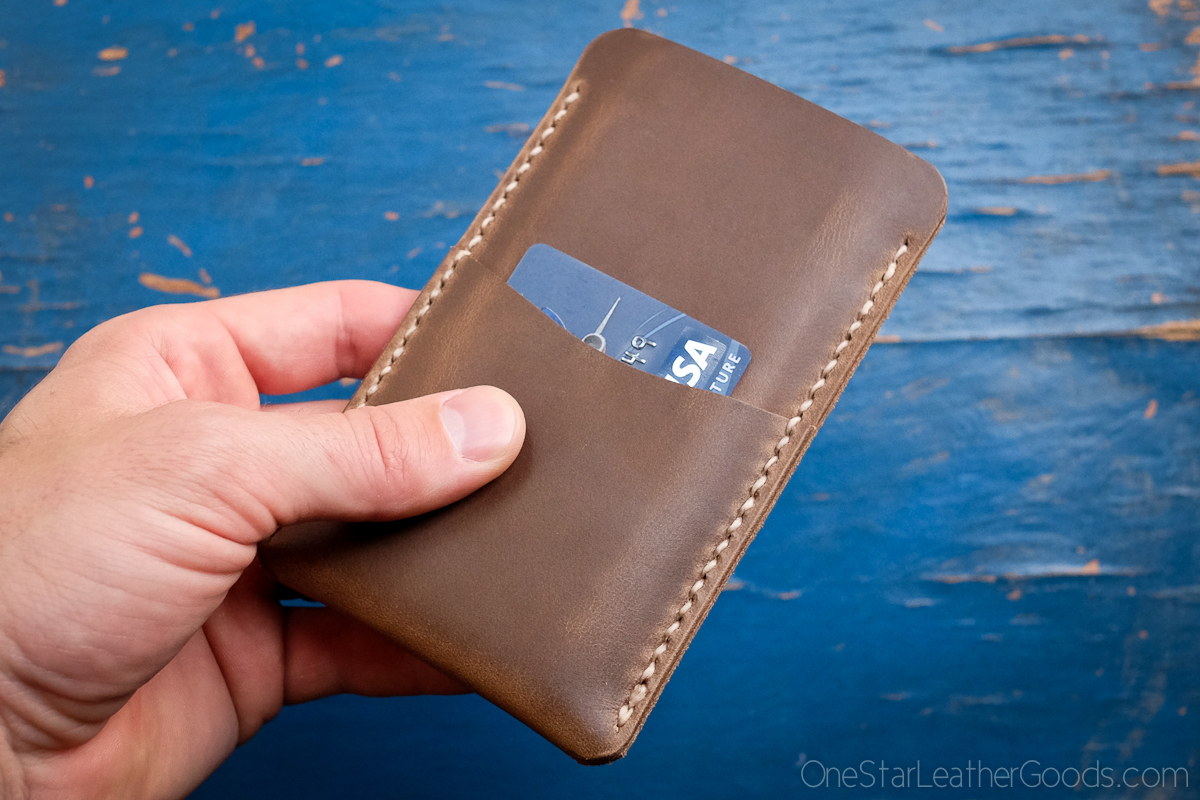 IPHONE WALLET - $90-$110
For iPhone X, 8, 7, 6 and 5/SE. The card slots are meant for 1-2 cards each, but you can cram more in as the wallet breaks in. I size these cases very carefully and specifically. The iPhone 4 wallet large pocket will fit US bills folded once in. The iPhone 5 itself is a bit slimmer, so US bills folded in thirds works best with that model. The iPhone 6 and 7 work well with single folded US bills.
I make this in many color combinations from many leathers. The absolute thinnest solution is with Hermann Oak bridle leathers, but it can be hard to resist the soft, waxy Horween leathers if you don't mind the slight extra thickness. Both are gorgeous and age beautifully. The phone holder is a TPU (durable plastic) shell that I hand stitch into the leather. There is a hole cutout so the phone's camera can be used, and the stitching creates a hidden pocket behind the phone. The phone pops instantly in and out of the TPU holder if you need to remove it, but is held tight and secure if you don't.
I make this with and without a snap closure. You can order from what's in stock or place a custom order where you are able to choose your leather and thread colors.
iPhone 5/SE, $90
iPhone 6/7/8/X, $95
iPhone 6/7 plus, $110
Add snap closure, +$10
Add wristlet hand strap, +$10
THE COMBO WALLET/PHONE PITCH
At first I was skeptical of a combo phone/wallet. But now having used it for a number of months, I am sold on this solution. You don't realize how much of your brain's background computing is taken up keeping track of things like your wallet AND your phone. Now they are one and the same and I never forget either one. Simple, streamlined.
"Yeah, but isn't it awkward to talk and type on the phone with all that wallet there?" For the first day, yes. After that, no. Think of the awkward ergonomics of a new camera or picking up a tool you've never used--unfamiliar at first, but after a bit of use there is never another thought.
Am I lobbying hard for this design? Yes. Because I immediately wrote it off as something I would personally never use but when I tried it myself I fell in love. The turning point was seeing the first one beautifully broken in and hearing the praise from it's owner. And now I'm drinking the Koolaid.
Now granted, if you have a membership card for every store you have ever shopped at, this may not fit the entire contents of your wallet. But if you are a minimalist like me this could be the ticket. Many ladies like this as a compact solution when leaving their large purse or handbag at home.
Once broken in this wallet is an amazing, compact perfect little package for your pocket. I carry mine front left all day, every day and love it. I carry two cards in each slot as well as bills and business cards in the large pocket and my transit pass goes behind the phone. <end pitch>
Here is a gallery of one in chestnut bridle leather, aged a couple months.
IPAD MINI SLEEVE - $65
Same design as the iPhone basic sleeve, just larger to fit an iPad mini. It will fit an iPad mini with or without an Apple Smart Cover attached.
I don't make products for the full size iPad at this time.