NOTEBOOK COVERS
We cover a huge variety of notebooks. See below for descriptions by size, brand and our full list.
POPULAR SIZES
Small / Pocket - A7 sized notebooks from Moleskine, Rhodia and Clairefontaine, the very popular 3.5x5.5" pocket notebook size (Field Notes and others). Our Park Sloper series of notebook/wallets fall into this category.
A6 Softcover - We started by covering the original Hobonichi A6 Planner and found this size cover also works with other notebooks from Midori, Apica, Nanami Paper, Itoya and others.
A6 Hardcover - These are all individually sized because no two "A6" hardcover notebooks are actually the same size. Available for Moleskine, Rhodia, Leuchtturm1917 and others.
A5 Softcover - This is our most versatile cover. Originally created for the Hobonichi Cousin Planner, it also fits A5 notebooks from Rhodia, Leuchtturm1917, Nanami Paper, Clairefontaine, Midori, LIFE, Fabriano, Itoya, Apica and others.
A5 Hardcover - No two companies make them exactly the same size (very frustrating), so these are individually sized and available for Moleskine, Rhodia, Leuchtturm1917, Baron Fig and others. Click here soon for an in-depth talk about A5 notebook cover sizes.
Larger than A5 - We cover only a few notebooks that are larger than A5: Baron Fig Confidant Plus, Muji B5, Mead Composition, Leuchtturm1979 B5 Slim
There are other sizes, but those are the major ones. See below for the full list.
POPULAR BRANDS
Click to explore some of the major brands of notebook we offer covers for.
WE MAKE TWO BASIC STYLES
WRAP STYLE
One piece of leather, folded and stitched. The cover is stitched at the top and bottom only. The folded edge is nice and smooth. We make these in thin leathers and in limited colors.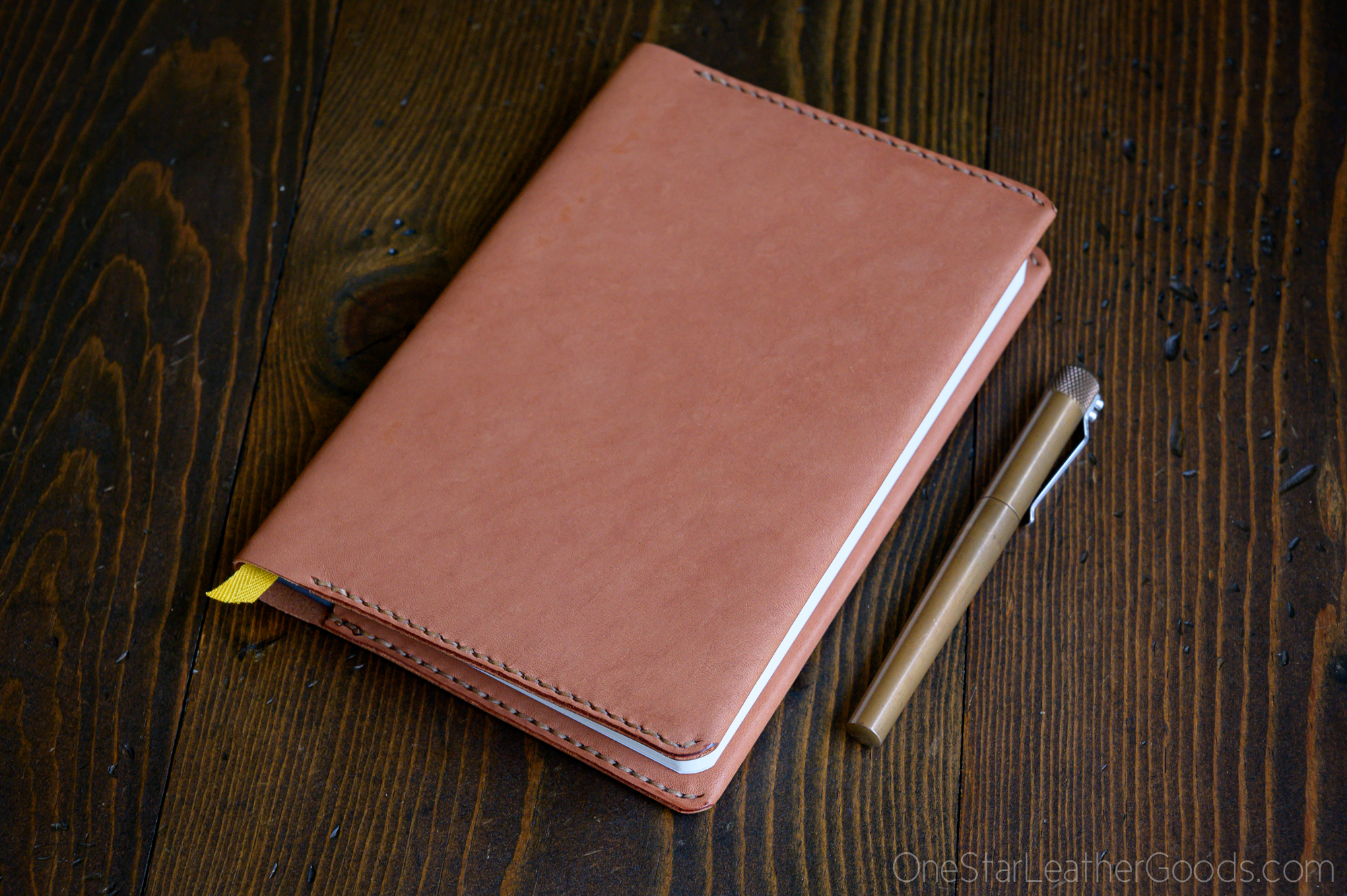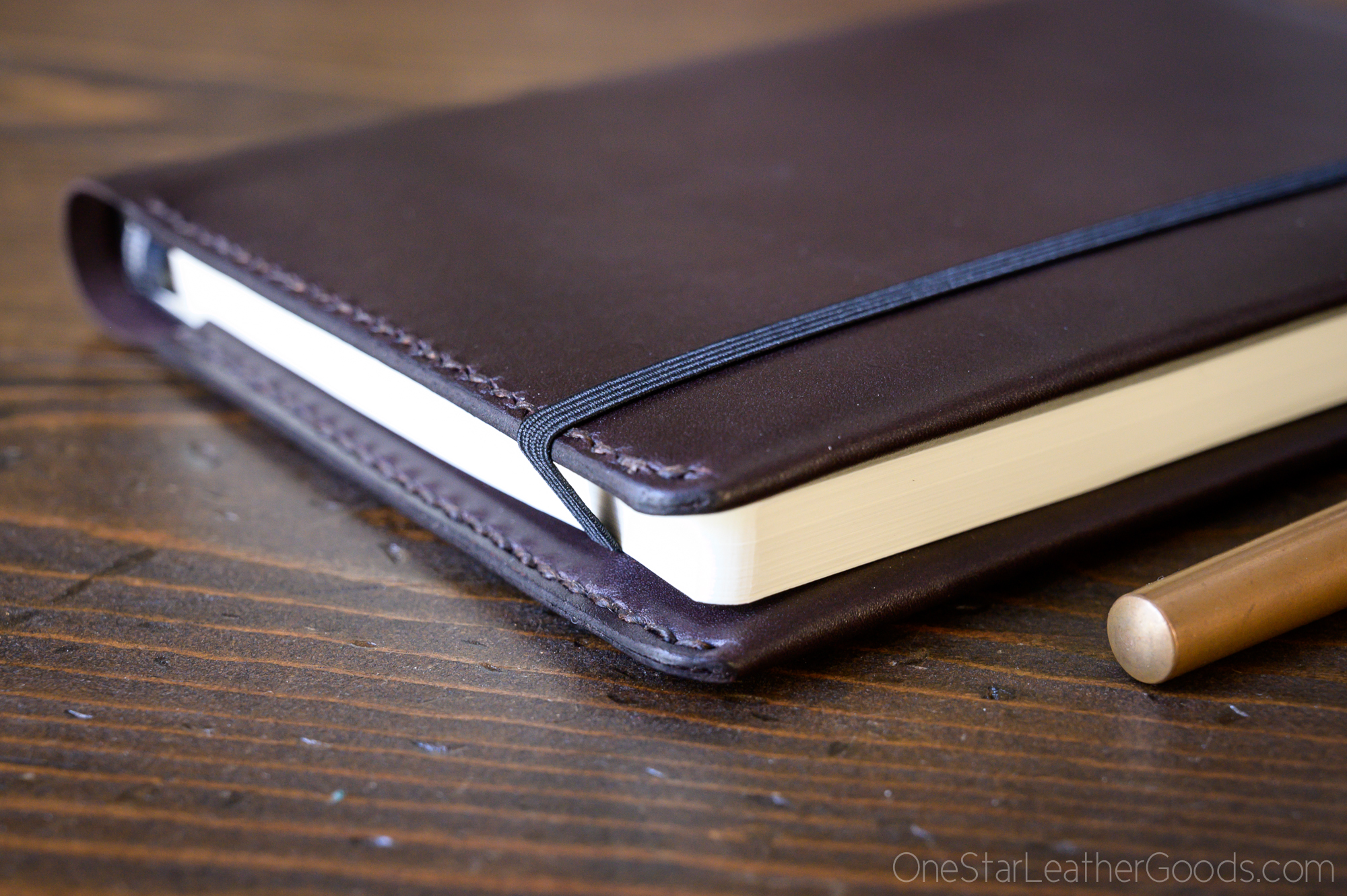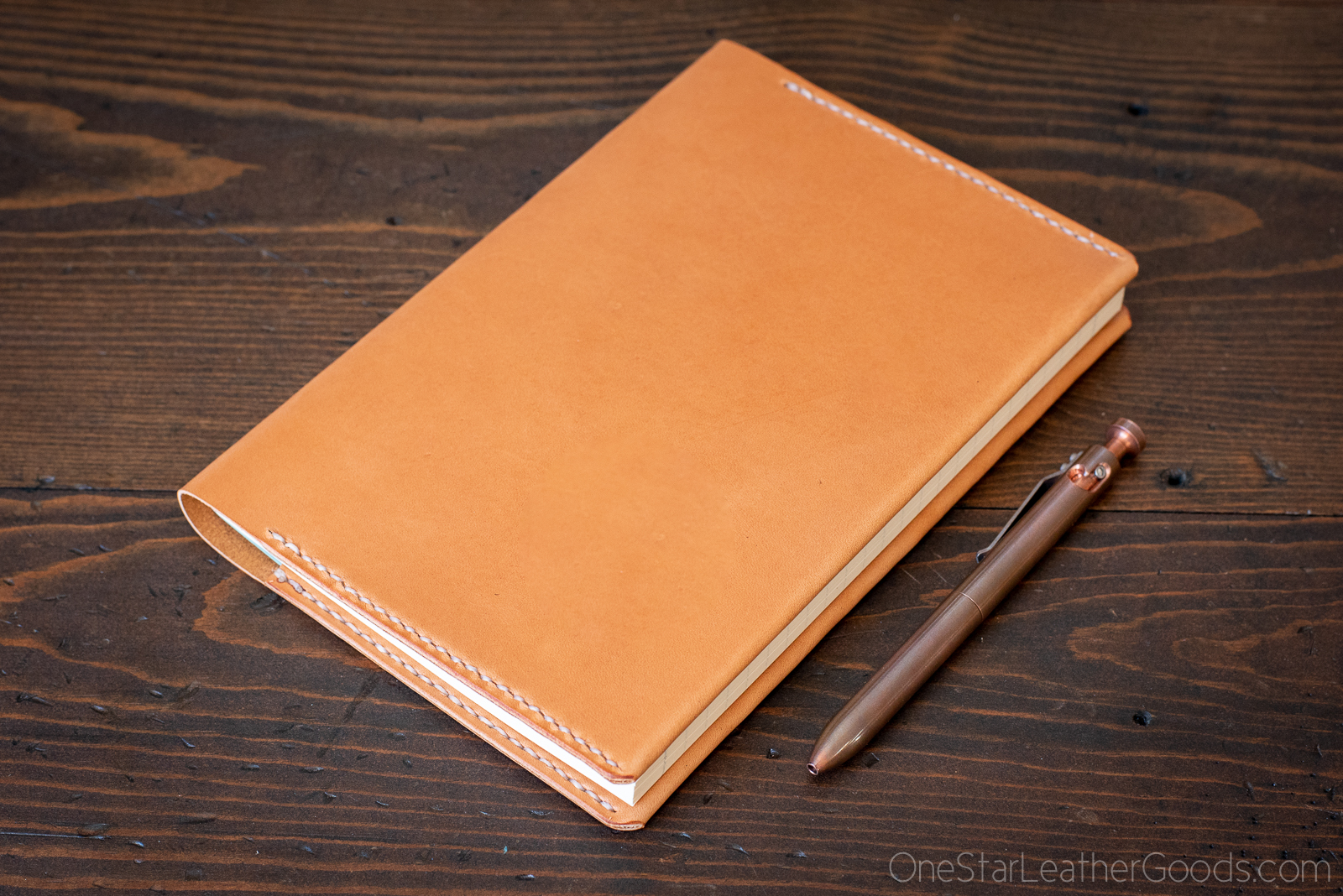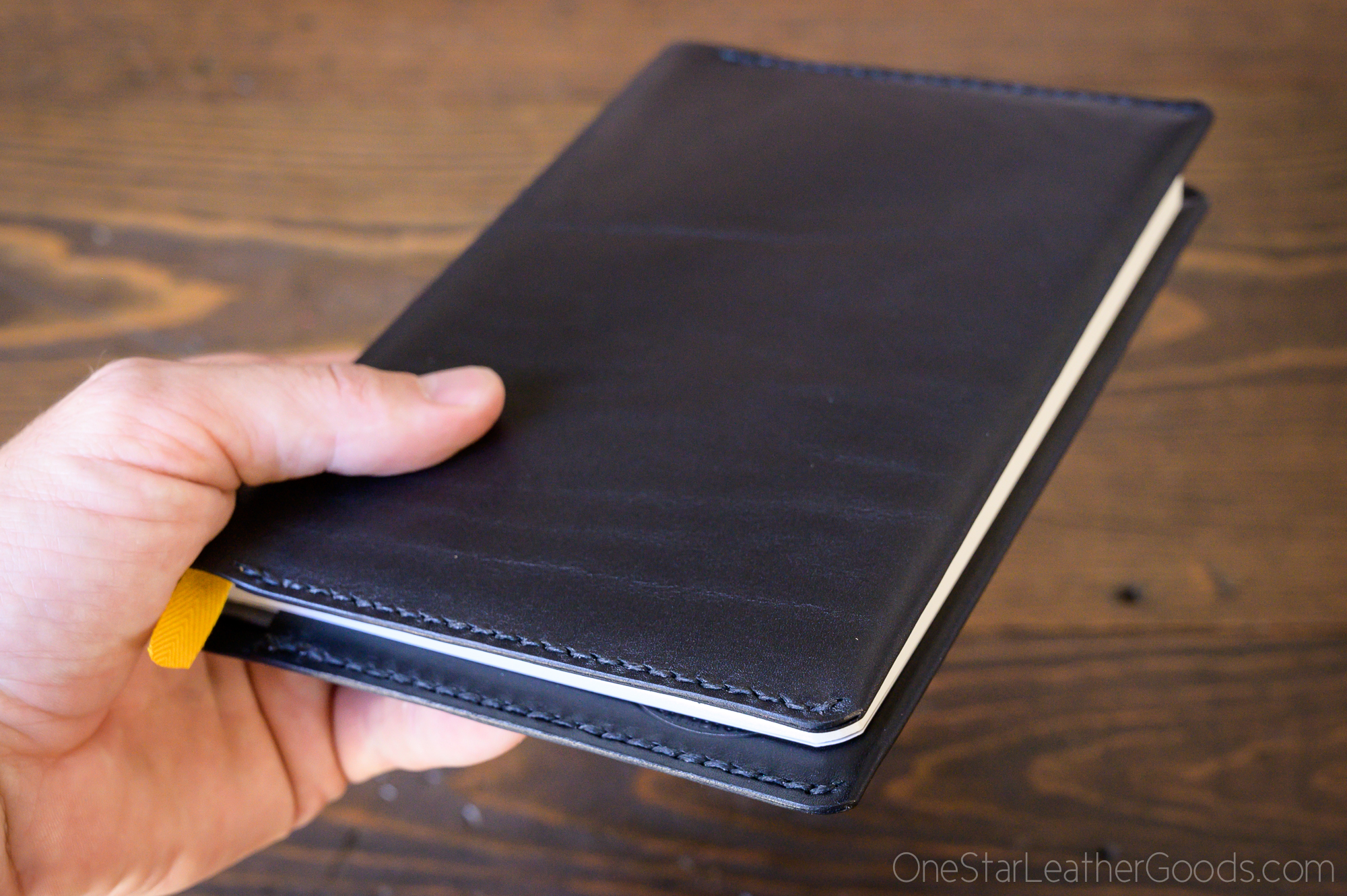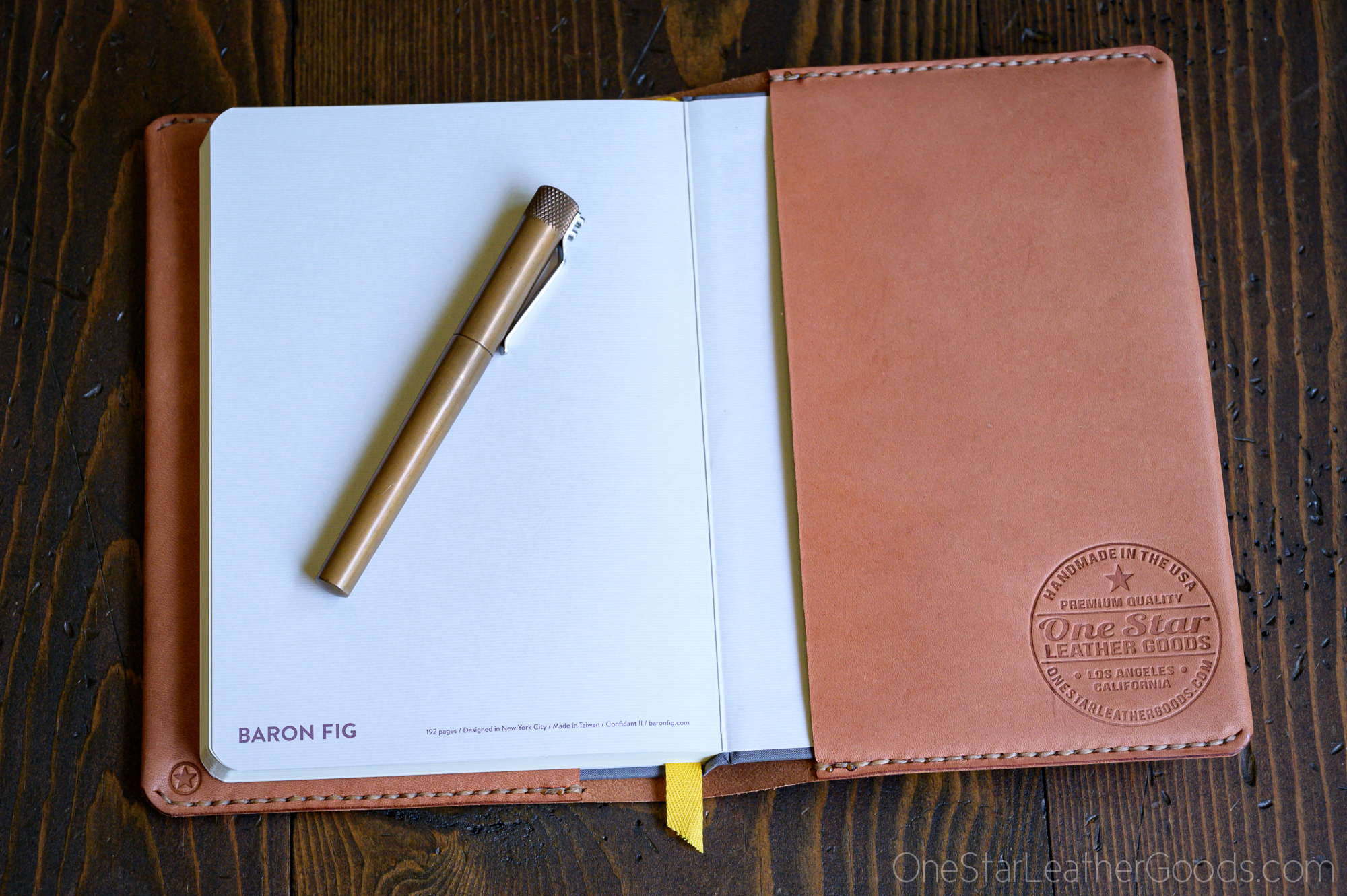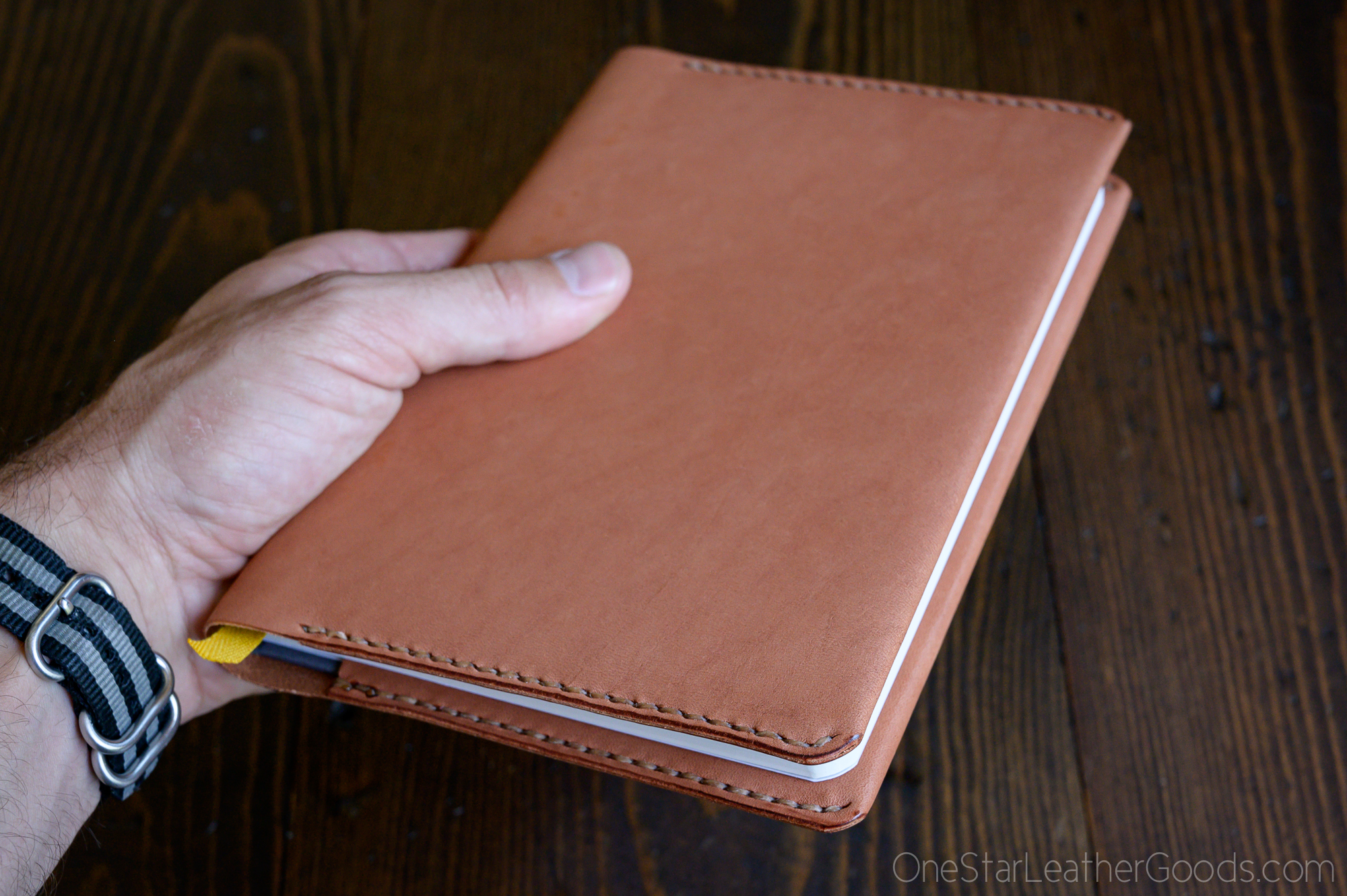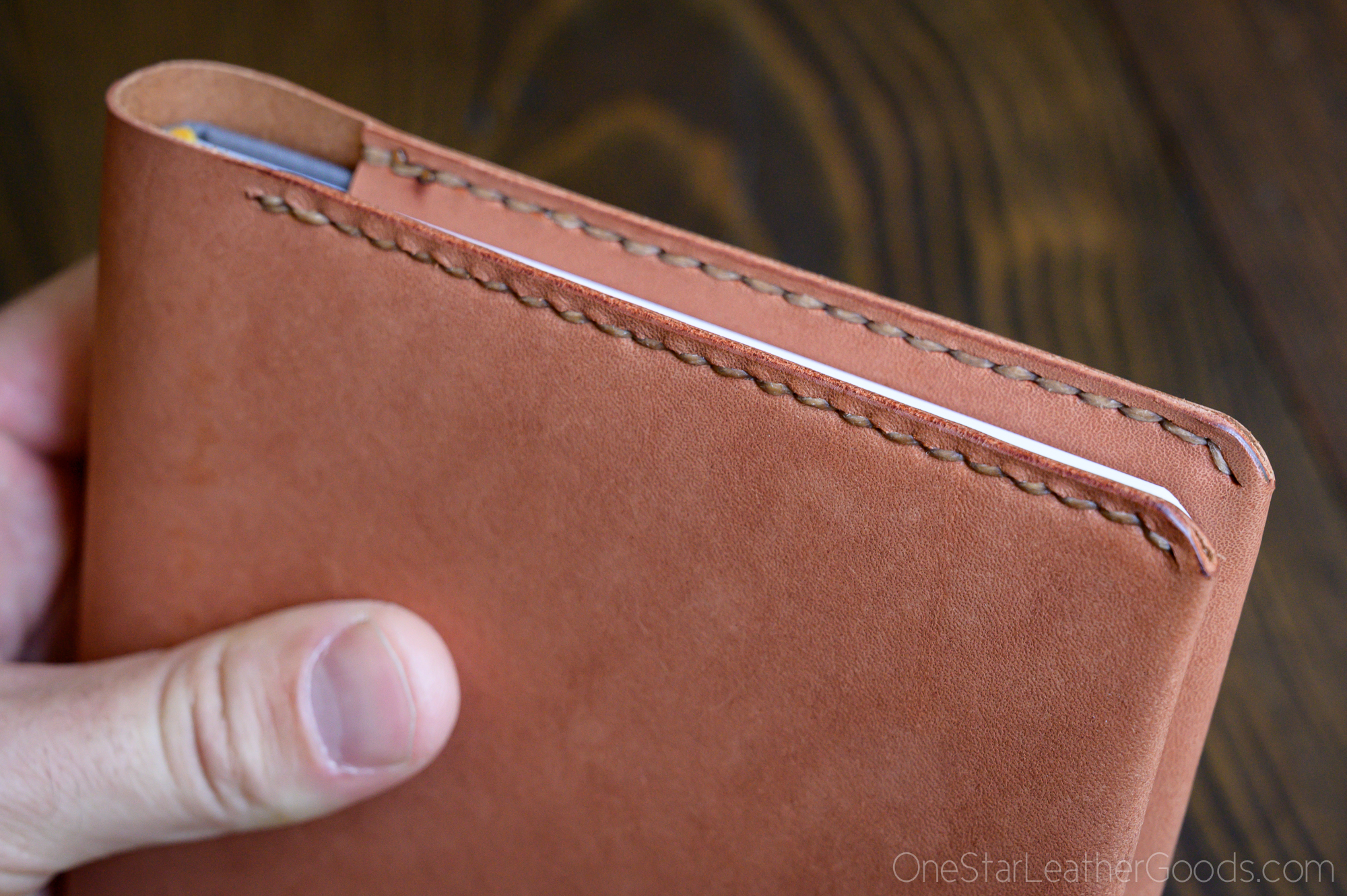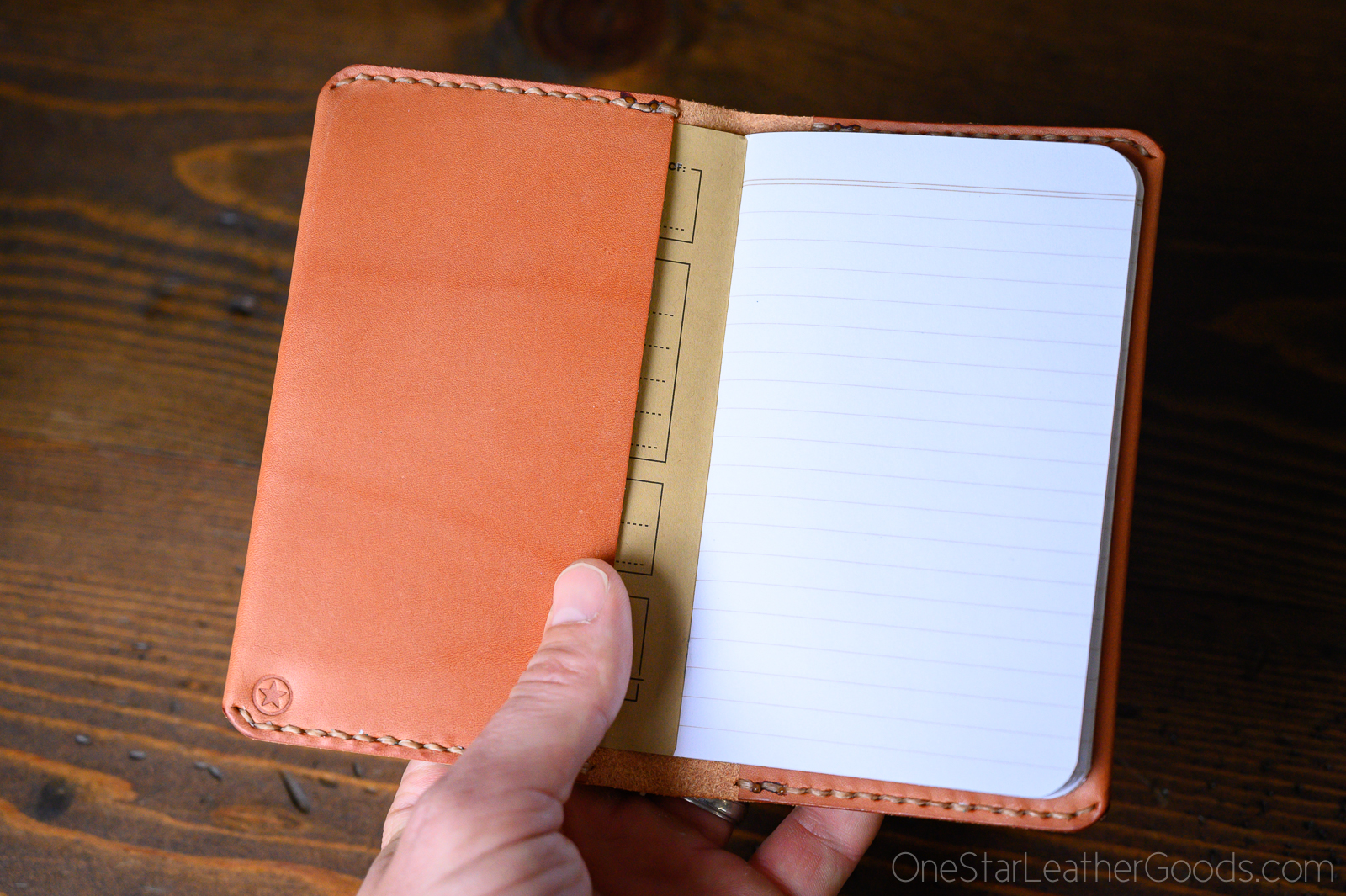 FULL STITCH STYLE
Three pieces of leather are stitched together. The stitch lines run along the top edge, down the long edge and across the bottom edge. We make these in a wider variety of colors with options such as pen loop, snap closure and card pockets, but they are more expensive because they take longer to make.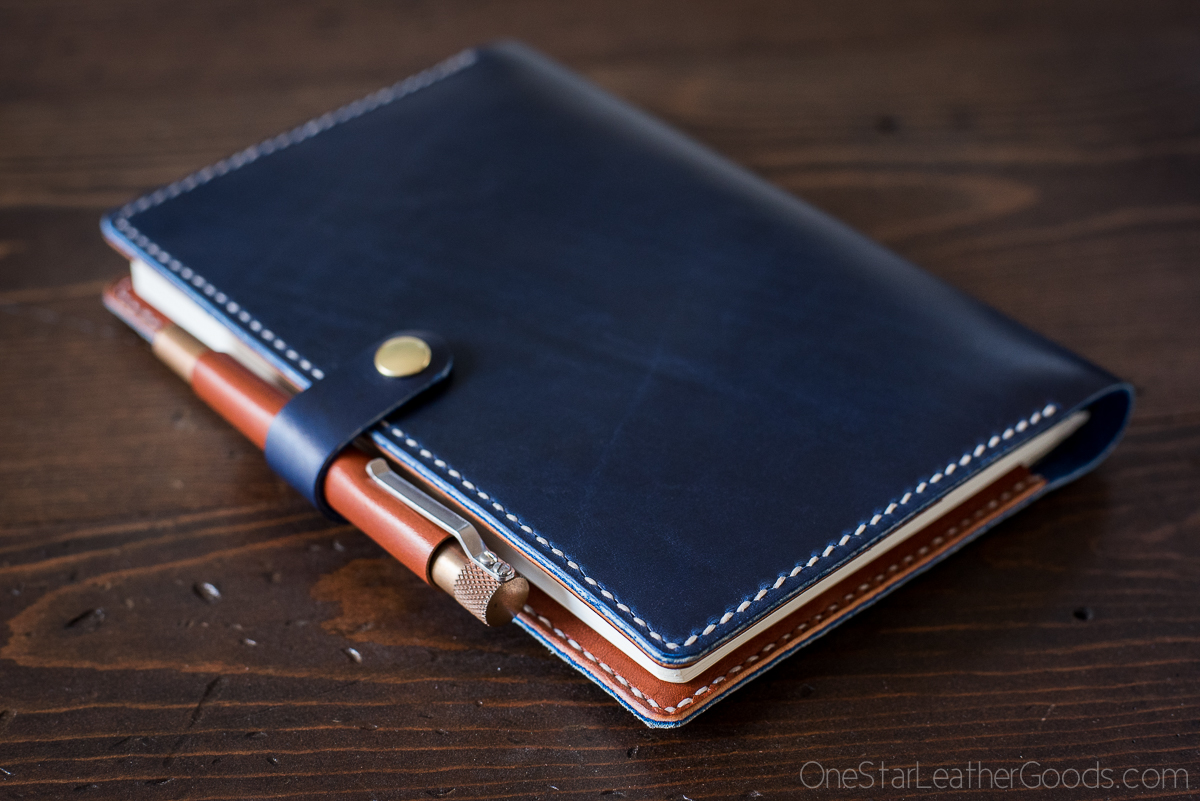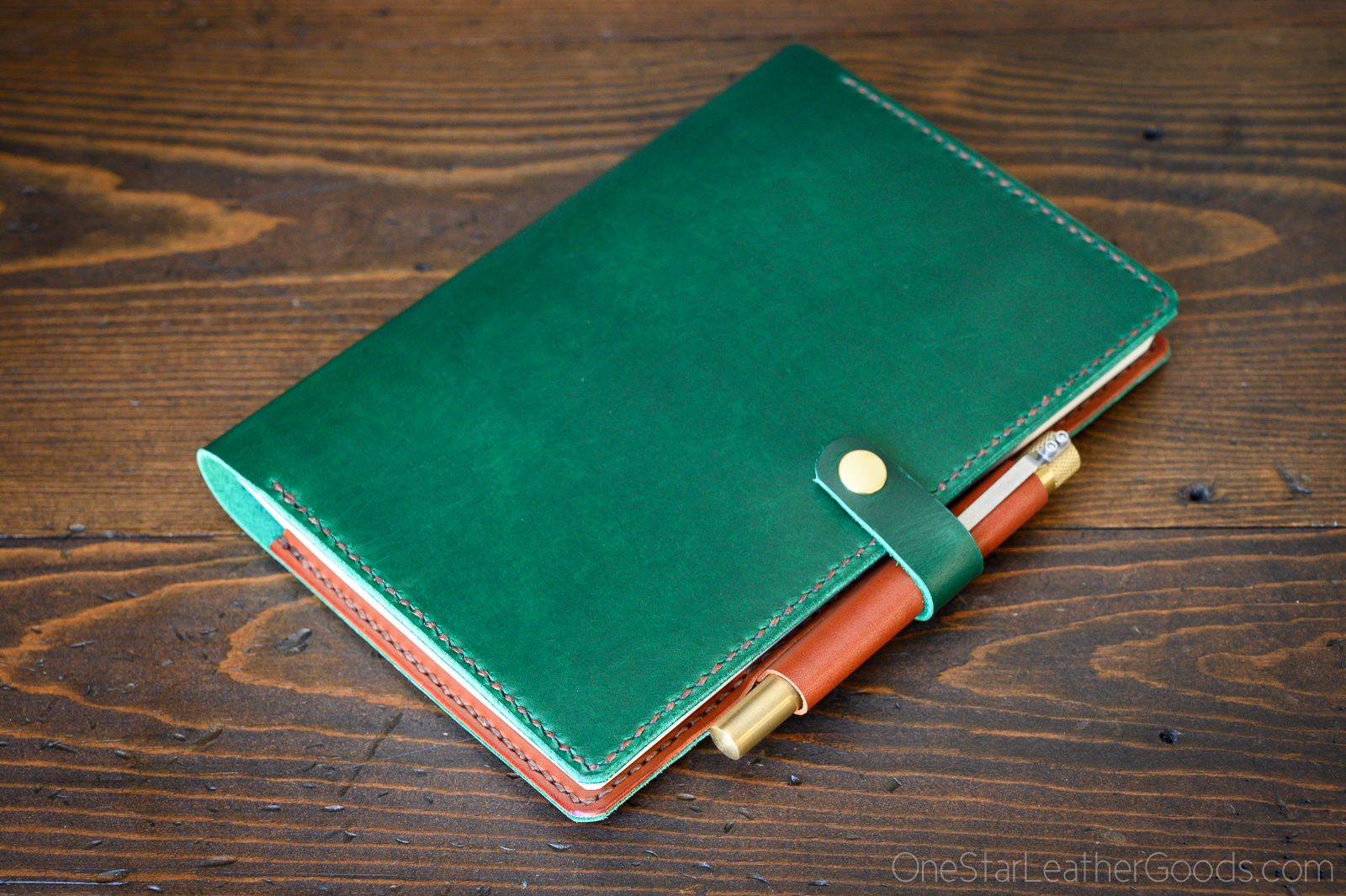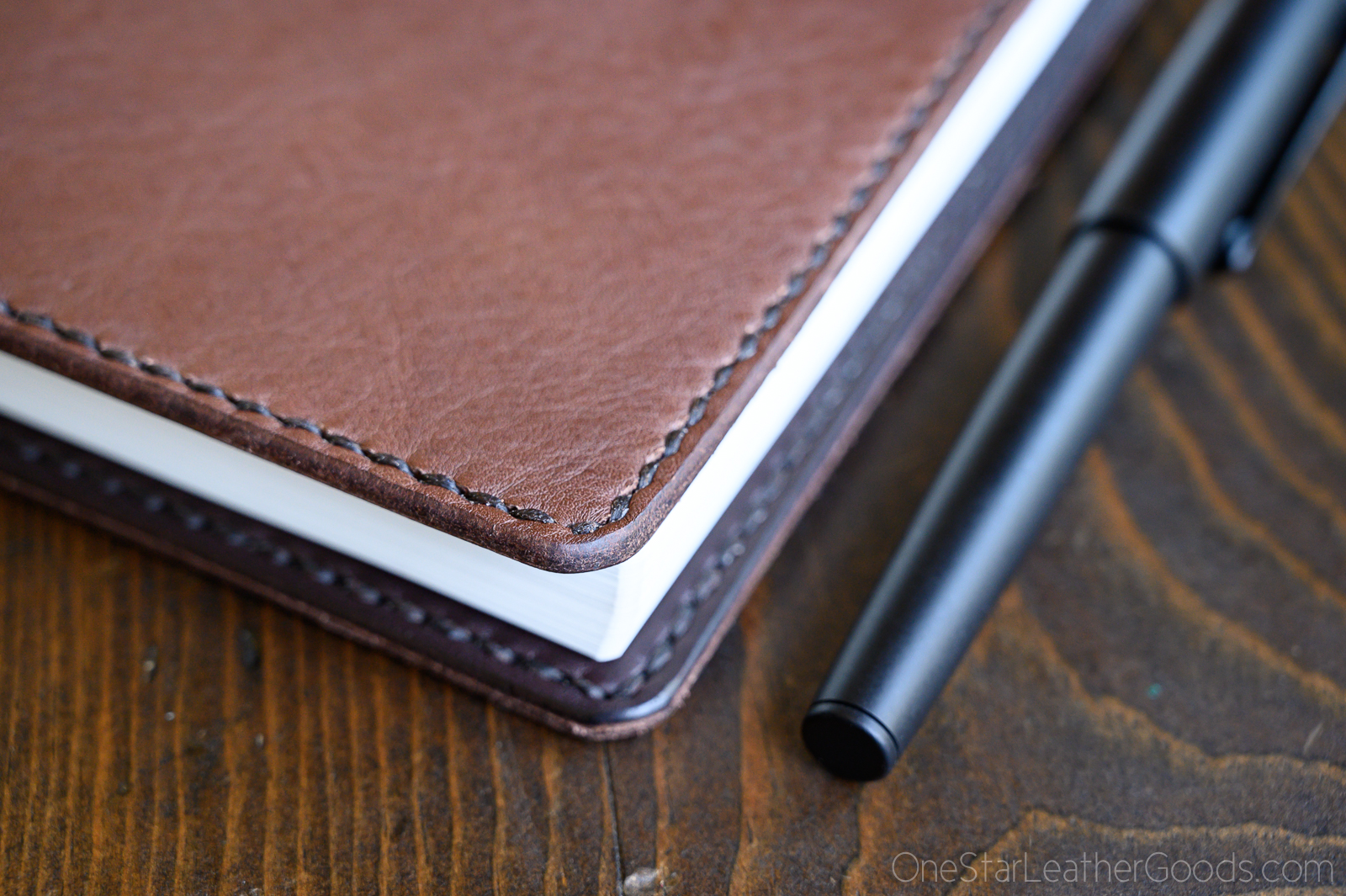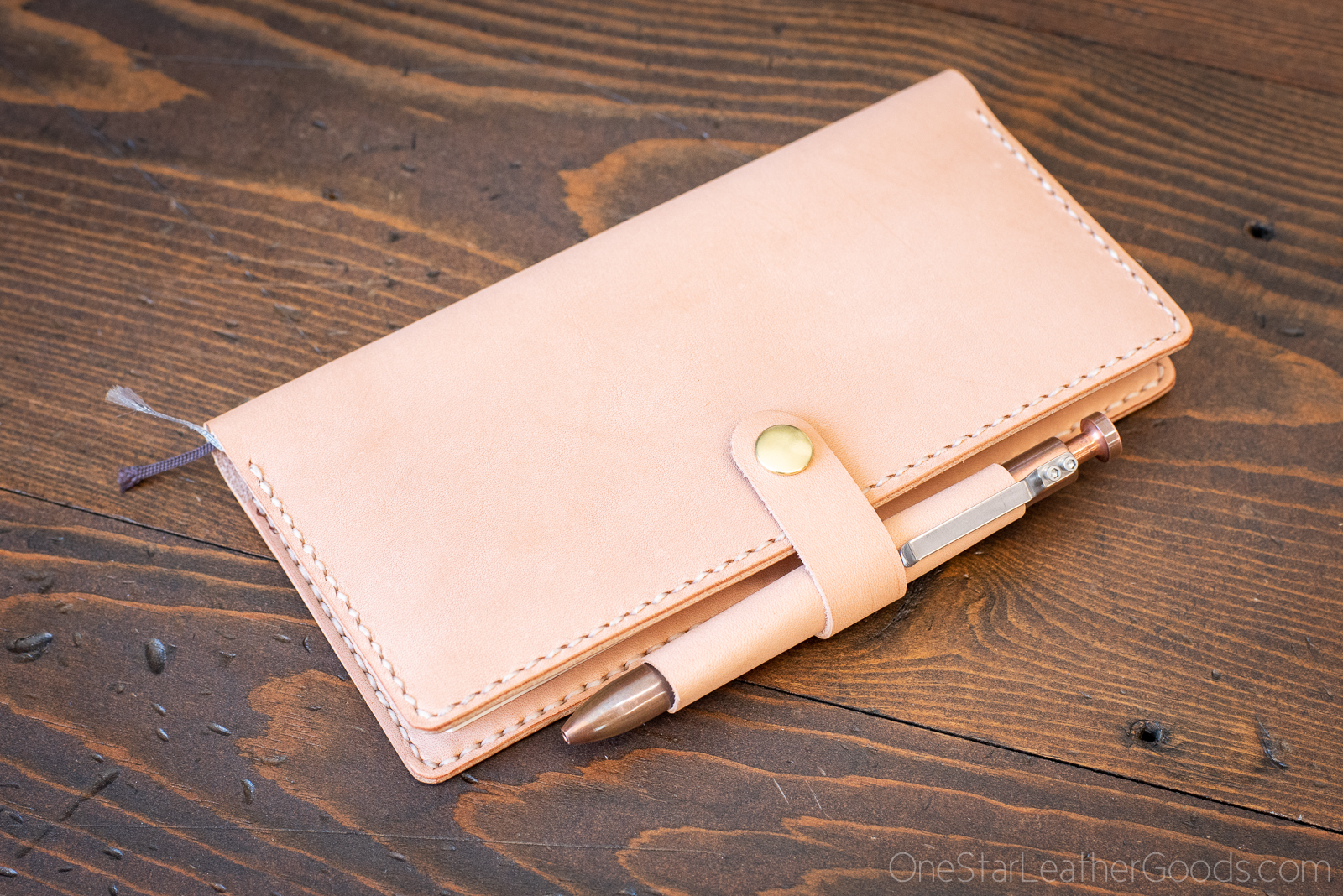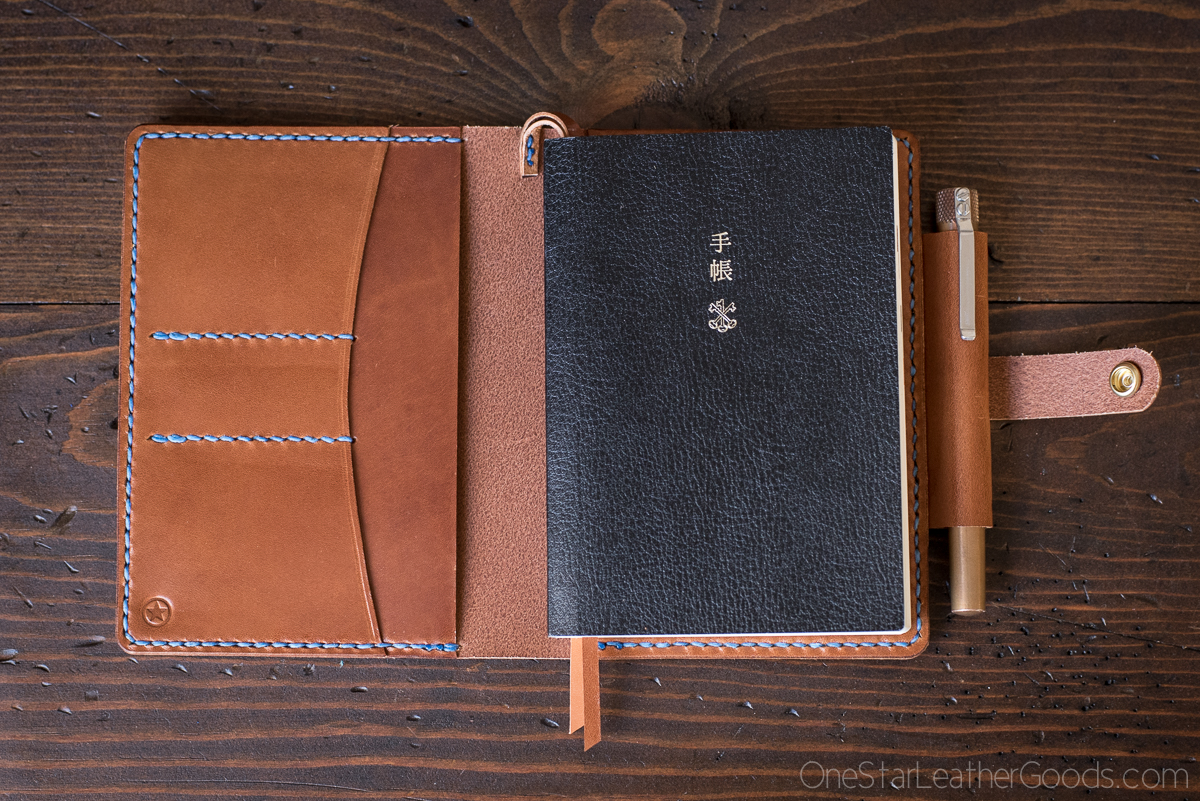 FULL NOTEBOOK LIST
Here is a list of the notebooks we cover. Many of these you will find as "Build-Your-Own" items in the shop. If you can't find a listing for the notebook you want, email us and we can help.
Leuchtturm1917
A6 hardcover, softcover & Jottbook
A5 hardcover & softcover & Jottbook
A5 Memory Book
B5 softcover Slim Composition
Life
A5 Noble Notebook (Hobonichi Cousin size)
A6 Vermillion Notebook (Hobonichi size)
Mead
Composition Notebook
Midori
A6 MD Notebook (Hobonichi size)
A5 MD Notebook (Hobonichi Cousin size)
Traveler's Notebook
Moleskine
A6 Pocket hardcover
A6 Pocket softcover
A5 Large hardcover
A5 Large softcover, Cahier & Volant
Muji
A5 Notebook (Hobonichi Cousin size)
A6 Notebook (Hobonichi size)
B5 softcover
Nanami Paper
A5 Seven Seas notebooks (Hobonichi Cousin size)
A6 Cafe Note (Hobonichi size)
B6 Cafe Note Slim
Cafe Writer
Panda Planner Classic
Rhodia
A7 Pocket
A6 Rhodia Unlimited
A6 Webnotebook
A5 Webnotebook
A5 Rhodiarama softcover & hardcover
A5 Goalbook
A5 Slim Staplebound Notebook
No16 Pad
No11 Pad
Rite in Rain 3x5" spiral bound
Stalogy B6 365 Days Notebook
The Standard Memorandum datebook
Apica
CD 5N
CD A6 (Hobonichi size)
CD S90 (A5 size)
CD 11
Baron Fig
Confidant, Flagship
Confidant, Plus
Vanguard, Passport size
Clairefontaine
A5 Hardcover
Hardcover 8x11"
Basics Clothbound (Hobonichi Cousin size)
Daycraft Signature
A6 Daily Planner Calendar D631 (Hobonichi Size)
Dingbats
A5 hardcover
Endless Works
A5 Recorder hardcover
Fabriano
A5 Ecoqua (Glued)
Field Notes
Standard 3.5x5.5"
End Papers Edition 3.5x7"
Arts & Sciences Edition 4.75x7.5"
Full Focus
A5 Planner hardcover
Hobonichi
A6
A5 Cousin
Weeks
Weeks Mega
Itoya
A6 ProFolio Oasis Journal softcover
A5 ProFolio Oasis Journal softcover
Kokuyo
A6 Buncobon Dot Cover Notebook